Art Room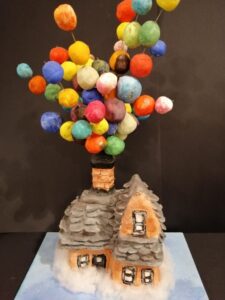 Here at St. Louis, we are very fortunate to have a magnificent and
spacious Art room which was once part of the main Chapel at St.
Louis. Its high ceiling and stained glass windows contribute very well
to an artistic atmosphere in which creativity thrives.
The Art room is stocked with a set of versatile trestle art tables,
easels, kilns, equipment and materials for various aspects of Art,
Craft and Design for students of Junior and Senior Cycles and also
Post Leaving Cert courses. A generous sized storeroom also features
along with ample storage space within the Art room itself.
Information Technology is becoming an increasing aspect of the Art
room reflecting the times we live in. Computers, overhead projector,
visualiser, animation copy stand, all in one colour printer, all enhance
teaching, learning and creativity in the Art room.
Science Laboratories.
St. Louis Community School boasts three fully equipped science
laboratories, each specially suited for the teaching of the four areas of
science: Physics, Chemistry, Biology, and Agricultural Science. These
state of the art facilities are fully stocked with all the necessary
equipment to encourage students to develop an interest in the various
science subjects. Student participation in practical activities helps foster
observation and evaluation skills, as well as the interpretation and
understanding of data. This helps students to acquire scientific
knowledge while also appreciating the application of science to everyday life
Woodwork Room.
This is where designs become reality. Students will see sketches they
have prepared be transformed into real 3 dimensional objects.
Students will develop skills that will remain with them for the rest of
their lives whilst thoroughly enjoying themselves. We have a full
range of hand tools and machines set within a modern, spacious and
active learning environment. Traditionally Woodwork was perceived
as a male student orientated subject. Today, female students
frequent the subject almost equal to male students and achieve the
same high levels of success and satisfaction.
Physical Education and Sports Related Facilities
The school offers an extensive range of facilities including a fully
equipped sports hall, a fully functioning gym with a weights rooms, an Astro turf pitch and the
use of the local GAA pitch, when required. The school also avails of
the local bocce courts, squash and handball courts and the outdoor
gym near the School of Music. These facilities afford students a high
quality experience of sport and physical activity and will continue to
be upgraded and expanded in the coming years to meet the
emergent needs of the school population.
Design Communications Graphics Room.
We have a fully equipped graphics and design room with traditional
technical drawing equipment and modern software CAD packages. We
mainly use SolidWorks but also google SketchUp and AutoCAD. The
room has 24 computers with the capabilities of running this software as
well as desks for technical graphics and facilities to publish impressive
design portfolios. We also have an interactive whiteboard, a 3D printer and a
visualiser.